Building a local search marketing plan is more vital than ever, because 72 percent of consumers who conduct a local search visit a store within five miles. In this post, our local search marketing business will explain local search to you.
You've most likely heard that you require a local marketing strategy.
And, given that 72% of consumers who conduct a local search visit a store within five miles, that strategy is more important than ever.
But, exactly, what is local search marketing?
Some marketers refer to it as local SEO, but we prefer to think of it as a more integrated approach to marketing for local businesses.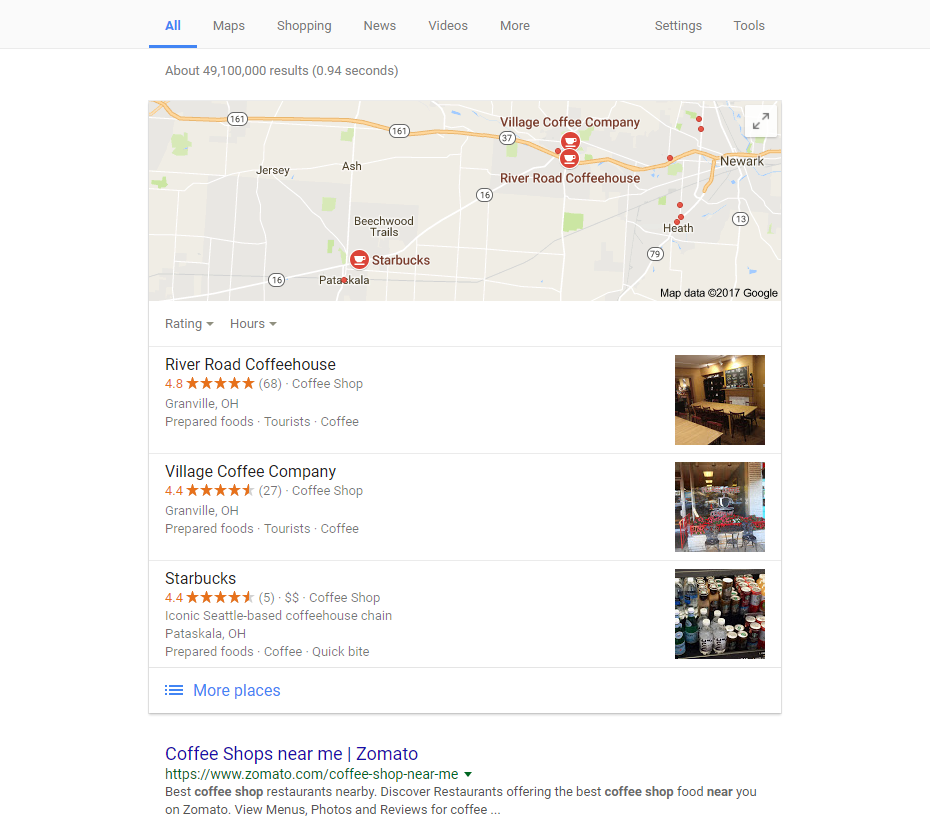 As you can see in the example above, "coffee shop near me" returns a local pack (the box at the top) before the organic search results. To learn more about this, read The Difference Between Local and Organic SEO.
Making your business visible in the local pack so that customers can find and choose you is a big part of local search marketing.
What Is the Process of Local Search Marketing?
To establish a local search presence, you must optimize your online information so that search engines include your company in relevant searches (and so that consumers can easily find all the information they need in order to choose your business). To give yourself the best chance of appearing in the right searches, you must provide search engines with all of the information they require.
How can you do this? Provide accurate, consistent NAPU (name, address, phone number, URL) to the most important directories so that search engines know what you do and where you're located.
This consistent information will show the search engine that it can trust your business.
If, however, your listings on those popular directories contain inaccurate, inconsistent information, the search engine won't know if it can trust your business.
This can hurt your local search ranking, which means consumers probably won't find you when they're searching for the products and services you provide.
They'll instead find the competition. Ouch.
Wondering where to start?
As a local search marketing company, we suggest starting with the basics. Search the following websites for your business and see how it looks.
If your business is new, you'll need to create new profiles on those websites. If you've been around for a while, you'll need to claim/verify these pages and then correct or complete the information on the pages.
Google My Business
Bing Places for Business
Yahoo! 
Yelp
Facebook
These websites can all have a big impact on your local search ranking, so make sure your information is correct and consistent across them all.
And remember that Yelp and social media often show up near the top of the organic search results.
Make sure your info is correct on both Facebook and Yelp in case the searcher scans past the local pack and goes straight to your social or Yelp profiles.
The Next Step in Your Local Search Marketing Plan
Claiming those pages isn't the end.
Search engines like Google and Bing don't just take the information you give them as the only truth. They use information from four main sources, Infogroup, Acxiom, Localeze and Factual.
To make things even more complicated, those four sources get their information from hundreds of online business directories.
That means that, if your business's information is different in many directories, that will confuse the search engine, and it won't know where or when to list your business in search results.
Choose the Right Categories
But again, this is just a piece of what search engines need to know about your business. They also need correct categories.
Don't forget to add appropriate categories for your business. And, be as specific as possible. For instance, "restaurant" is too general when adding categories to Google My Business. You want to specify what type of restaurant you run.
If you run a pizza delivery restaurant, use the "pizza delivery" category so that Google knows to place your business in "pizza delivery" searches when local consumers are looking.
You need to be specific so that the search engine knows exactly what you do. This will help your business show up in the right searches!
And, according to Google's guidelines, you should use as few categories as possible.
How to Audit Your Local Search Ranking
Clear your browser history and cache.
Open an incognito window and go to Google.com or Bing.com.
Search for your industry and city (example: pizza Columbus Ohio). Did your business show up in the search results? If so, were you at the top, or did you have to click "view more" and scroll to the bottom to find your business?
Search for your business name and location or phone number (example: RevLocal Granville Ohio).
Sort through the directories. Claim, complete and/or correct your NAPU. Some directories are free while you have to pay for others.
But remember, consumers prefer to interact with businesses using an integrated marketing approach.
So, once you've been working on managing your local search presence, you'll need to get more customer reviews, build your social media presence and use paid advertising to reach new markets.
This integrated approach will put your local business on the map and help you be found (and chosen) by more customers!
For more information on local search marketing, check out these resources:
How to Find a Trustworthy Local Search Marketing Company
Don't have time to DIY local search marketing? That's okay. Most business owners struggle to run a business and handle their online marketing.
When you're looking for a local search marketing company, keep these factors in mind:
Avoid agencies that make outlandish promises. They can't get you to the top of Google overnight. Run from those companies.
Don't let anyone scare you. If a company calls, claiming to be Google and threatening to remove your listings if you don't pay them, they're probably scamming you.
Look further than software. Any good local search marketing company will have a person or dedicated team that works on your marketing. Don't settle for software, because there's nothing quite like having a human on your side to keep an eye out for algorithm updates and plan new strategies or campaigns.
Don't let yourself get locked into year-long contracts. It's 2018. Ditch your contracts and go with a local search marketing company that proves to you month after month that they're working hard to improve your online presence.